In a video i did recently on youtube, i showed off a few things i bought that week. One of these things was a MAC 187 stippling brush. I got mine for around 7 or 8 pounds and it is NOT a fake. This raised some eye brows though, as that is pretty cheap considering its RRP! But it was sold by a private seller (not a shop or power seller), a woman clearing out her makeup collection. She had other MAC products including eye shadows, hello kitty + dame edna shadow palettes, other MAC brushes and blushes. You can suss a seller out by looking at the other items they are selling, if she was selling 20 187's at really low prices, then i'd be suspicious. But every now and again you get ebay novices, people who put expensive items at a 99p starting bid price and people like me will take advantage of it (why not?!) which is why i got it so cheap.



But there are fakes out there and they are gettig closer and closer to the real thing! So i thought i'd share with you a couple of ways to tell if a brush your thinking of bidding on is fake.





1. PACKAGING

Authentic MAC brushes come in a clear plastic sleeves with a bar code printed on the sleeve. Many fake brushes I have seen come in clear plastic sleeves without the bar code. Also, many fake face brushes come with additional hard plastic protectors for the hairs. Real MAC face brushes do not have this additional plastic protector. They come in the simple clear plastic sleeves with bar code.


2. HANDLE

Real MAC brushes come with black wooden handles and the neck (the part that connects the handle to the hair) is silver. Some bad fake brushes will have black plastic necks.


3. LETTERING

Authentic MAC brushes are labeled "MAC ###". ### being the number of the brush. On real brushes, the lettering is printed on the handle and easily rubes off. On most FAKE brushes, the lettering is engraved into the handle and very hard to rub off.


4. BRUSH SETS

Keep in mind that MAC has never offered a set of full sized makeup brushes except until November 2006 called the Pret-a-Porter brush set. The Pret-aPorter set includes 8 full size brushes (187, 190, 129, 213, 224, 266, etc). The set comes with a black satin brush roll. If you see a full size MAC brush set with more than 8 brushes it's fake!


5. THE SELLER

Never buy MAC products from a seller you don't trust! Sellers to watch out for are a) Newly registered sellers with no or little feedback, b) sellers in other countries such as in China and Japan and Singapore (they'll be garanteed fakes) c) sellers selling a lot of other MAC brush sets (you have to wonder where they are getting the endless supply of brush sets). Don't let 100% feedback fool you. Look at the seller's completed listing and see if week after week they list full size MAC brush sets. That's a sign the brushes are fake!


6. PRICE

If the price is too good to be true, it's probably because it is. The best way to avoid buying fake brushes on Ebay is to buy brushes one at a time, instead of in a set. If the seller seems to have an endless supply of brushes and is happily selling them for 50% off of the retail price then thats a sure sign they are fake.


7. PICTURES

If the picture is blurred and doesn't have a close up ask for a close up picture, if the seller refuses to give you one it's FAKE!


some examles of fakes:




Authentic brushes don't come with the brush covers the ones in the middle have





A really bad fake travel size set! The necks should be silver, not black.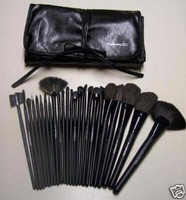 Ever seen MAC selling a set this big before? This has got fake written all over it, and again the necks are black and not silver!



I hope this has helped you guys :) remember if your not sure DON'T BID.


xxx